Michael Costigan, a sophomore at Conestoga High School, noticed the effect of drugs and alcohol on kids in his community and was eager to find and share support to live a drug-free life.
He and two friends, John Defruscio and Lilli Lucia, approached his football coach, Guidance Counselor, Brian Samson, and all together they began the Natural High Club at Conestoga High School.
What started as 20 High school students is now over 100 students working toward creating a new social norm and changing people's lives through decision-making.
The Natural High Club is focused on hosting events to share information and engage students in finding their natural high. Their first event was Football Camp where they hosted a station for viewing Natural High storyteller videos. Then, they participated in the school fair to help raise awareness and funds. They provided free activities to engage kids in "natural fun," including showing Natural High videos and making a corn hole set available. In addition, they offered kids a chance to sign up for the club and sold sandwiches to raise money.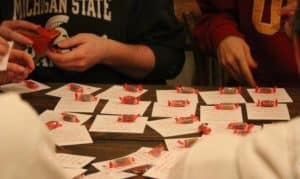 In an effort to be inclusive, on Valentine's Day in 2019, the club sponsored candygrams to every student on campus. Michael noted that sure kids love getting candygrams, but it can be isolating for the kids who don't get them.
The club assembled 2,500 candygrams. Michael notes that it was a "great community builder."
Following the Valentine's Day rush, in February of 2019 the club implemented Invasion Day – a day in which the high school students in the club visited with 8th graders to talk about the very real consequences of substance abuse and finding their natural high.
The student leaders pitched the idea to their 8th grade principal and worked directly with the homeroom teachers to design interactive, conversation-based lesson plans which included the use of Natural High videos. They talked in detail about the importance of making good choices with respect to drugs and alcohol and finding alternative activities.
The club is committed to continuing its work through school fairs and events. And now they are specifically focused on bringing in expert speakers and professionals to network with the students and help to spread messages of hope and strength. In addition to supporting students at Conestoga High School, the club has been contacted by schools across the nation looking to form similar clubs.
Michael's goal is to change people's lives and he is inspired by the interest.