At Natural High, we're constantly inspired and blown away by the exuberance and dedication of people who support our mission. When people discover the power of finding their passion in life, they want to share that feeling with the world.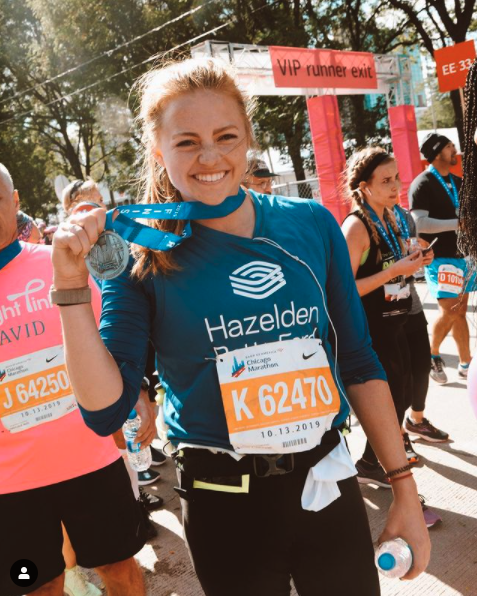 People like Alexandra Whitford, a 25-year-old Michigander, who is — as she says — "a long-time lover of finding life's little adventures." Whether it's flinging herself 13' ft in the air off of a pole vault pole, or braving a torrential storm on the beaches of Lake Superior with nothing but a flashlight, a couple of PB&J's, and her best friend  —  she's game for it all.
Alexandra works in student programming at Hillsdale College, her alma mater. She spends most of her free time tending to her nearly 70-strong potted plant army, managing her farmer's market booth, and serving as team captain of her summer league volleyball team, the Washed-Up Allstars. 
We spoke with Alexandra about her latest project, the 2020 Mile Match. Alexandra is over halfway through running 1,000 miles to raise funds and awareness for Natural High. That's right — 1,000 miles. 
Support Alexandra's 2020 Mile Match by following her progress on Instagram here.
Q: Tell us a little about why you believe in Natural High and the work we do.
A: Natural High drew me in right from the moment I stumbled onto your little corner of the web. What sets Natural High apart is the unique view on substance abuse prevention — it's more than just the do's and don'ts. It's inspiring an entire generation of young people to live life to its fullest. By providing students with the opportunity to explore what they love, Natural High offers them a pathway to finding their purpose and fulfilling their calling. This mission is one I'd dreamt about for years. It's a better way to help people who are susceptible to substance abuse. Finding out that Natural High was already making it happen in the world today was such a joy, and I immediately wanted to be a part of it. 
Q:  Tell us about the 2020 Mile Match campaign that you created and how it's coming along.
A: After fundraising for another substance abuse non-profit (Hazelden Betty Ford Foundation) while training for the 2019 Chicago Marathon last year, I found such a joy in building philanthropy into my everyday lifestyle. Being a recent college grad, I especially love providing other young people with the opportunity to give, even in the smallest amounts, through a platform that's easily accessible to them. 
Fast-forward to New Year's Day, 2020. I woke up with a brand-new idea to keep generosity at the forefront of my daily life — by creating a mile match fundraiser. I wanted to pledge to run a certain amount of mileage for charity, so I sought out a partnership with Natural High, and the 2020 Mile Match was born.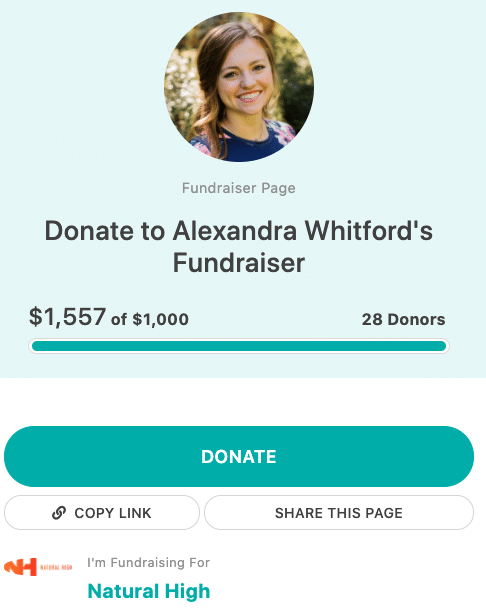 My 2020 Mile Match is a pledge to raise $1,000 by running 1,000 miles this year. At the end of each month, I track the amount of mileage I've covered, and create Instagram Stories with squares for each mile, prompting my friends and followers to "claim a mile" by sending me a Venmo donation. The months have ranged from 25-100 miles – and each month, the grid is filled in a matter of hours, sometimes minutes. It's such a cool way to partner with my peers to provide an easy and accessible way to give back. 
So far, I've raised $1,557, and have run 743 miles (sometimes people donate even more than the miles I've run!) I'm excited to continue pressing forward towards my run goal, and hope that through pairing my "natural high" with a philanthropic mindset, others will be able to envision their own spins on the idea!
Q:  What first activated you to become deeply engaged with our mission?
In 2017, my father passed away suddenly after nearly 20 years battling addiction to alcohol and prescription drugs. This propelled my mom, my two younger brothers (age 18 and 11 at the time), and myself towards different methods of coping. For me, peace came from charging myself with the responsibility of continuing his legacy, and refusing to let his demons overshadow his big heart.
My dad was funny, melodramatic, and the most charitable person I've known. He'd drop everything to help a friend, coworker, or even stranger who needed a hand. This is the piece of him I want to continue to reflect. When I think about the mission of Natural High, I think about my father. I hope that through living out my natural high in running, I can continue to honor his legacy, and be reminded of him with every step. 
 Support Alexandra's 2020 Mile Match by following her progress on Instagram here. You can donate directly on Alex's fundraising page here. 
What's your Natural High? Can you think of a way to raise money and awareness for your favorite nonprofit?
Natural High is a drug prevention nonprofit that inspires and empowers youth to find their natural high and develop the skills and courage to live life well. The change starts with engaging young people on their terms — through compelling stories told by people who they look to as examples. Natural High provides positive and uplifting prevention education in a kid's critical years – middle and high school – when they are so often exposed to drugs and alcohol.